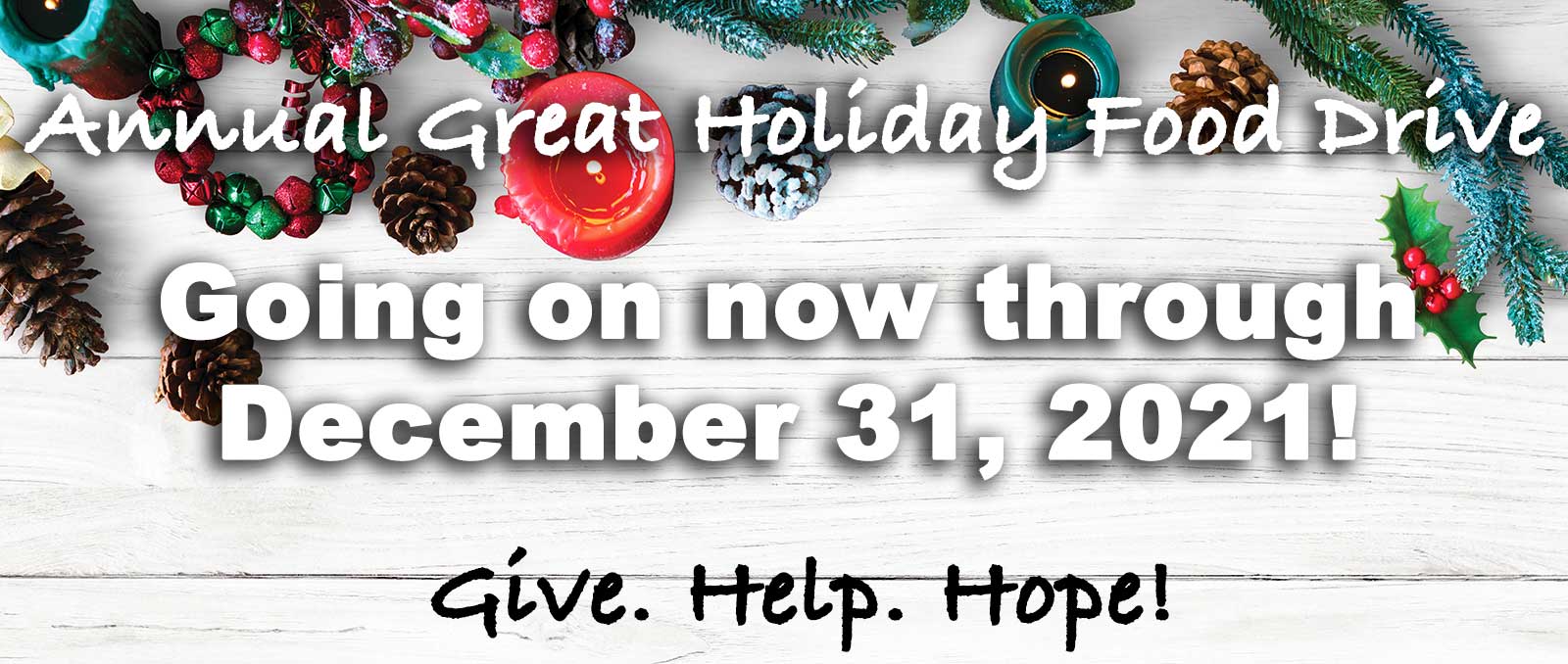 ATTENTION BUSINESSES
Planning is HAPPENING NOW!
SIGN-UP TO BE A DROP SITE OR SPONSOR NOW!
12th Annual Great Holiday Food Drive
We look forward to your support this year for our 2019 Portland-Salem Metro-Wide 12th Annual Great Holiday Food Drive taking place from December 2 through December 31, 2019.
We're currently looking for Sponsors & Donation Drop Sites for our 2019, 12th Annual event.
Signup to be a Donation Drop Site Location. Allow your business to be an official Donation Drop Site for the 12th Annual Great Holiday Food Drive. It only requires about 3-4 sq ft of space for a donation collection barrel. We'll take care of the barrel drop-off and pick-up so there's no work on your end other than donating some space. We'll do all the work for you! There's many benefits to getting involved:
Be Proactive and Involved in your Local Community
Raise Awareness for Hunger in Oregon
Receive a Listing and Link to your business website from the Great Holiday Food Drive
Get to Know Local Consumers you might not otherwise reach
---
DID YOU KNOW?
In an average month, an estimated 260,000 people are receiving food from a food pantry in the Network.
The rate of food insecurity (being without access to a sufficient quantity of affordable, nutritious food) in Oregon is 14.6%.
About 552,900 Oregonians are food insecure, of those 194,070 are children.
About 72% of the people who receive food have incomes below the federal poverty level.
Of households utilizing food pantries, about 80% of them are able to meet their food needs for the month with the help of a pantry.
Make Donations Online!
While the 12th Annual Great Holiday Food Drive event has not yet started, you can still make donations to the Oregon Food Bank through their online, secure donation portal all year long, where donations go directly to the Oregon Food Bank.
Special Thanks to 2018's Great Holiday Food Drive Co-Sponsors
DONATE Online!
You can now donate online all year long to benefit the Oregon Food Bank! Every $10 donation raises 30 meals! Help fight hunger here in Oregon! Donate online by clicking here!
---
Create Your Own Team's Food Drive!
Anyone can create a food drive donation page to raise money and awareness for the Oregon Food Bank! Create your own team to and track your teams online success! Create your team food drive campaing now!
---
Need Food Assistance?
Anyone can find themselves needing food assistance. If you need assistance, get local food bank help now! Find your local food bank now.
---
Over 71,000 lbs Raised Since 2001!
Thanks to all who have participated for the last 11 events. Without you this would not have been possible! Learn more about the Past Great Holiday Food Drive Events.