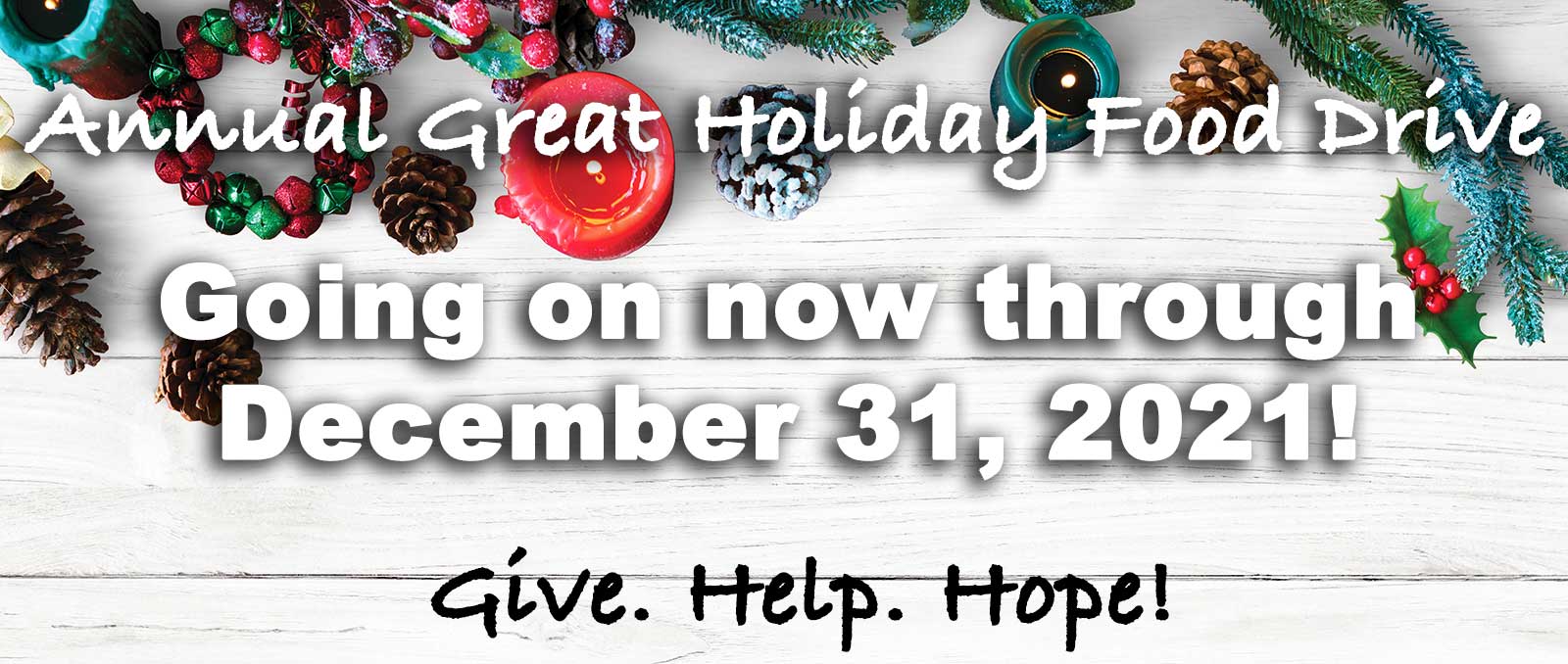 2016 Portland-Salem Metro-Wide
9th Annual Great Holiday Food Drive
December 5th - 21st, 2016!
Grand 9 Year Total Raised 69,106 LBS
The 9th Annual Great Holiday Food Drive was a great year in that we were able to revitalize the annual event, and generate awareness and raise some food for those in need here in Oregon! This was by no means a record year with only 416 lbs, nor even came close to tying any records we set in the past; but as a whole, we're excited to be apart of raising close to 70,000 lbs of food in our 9 year history.
Regardless of records, it was a great event in which many local businesses were able to come together, and fight hunger on a community-wide scale. As always, thanks go out to all participants who helped us fight empty warehouses throughout Oregon and raise food and awareness for Oregon Food Bank and the Marion Polk Food Share.
The food banks are always short on food during the holiday season, and need to replenish supplies, regardless of economic situations and hardships.
Thanks to all those who helped during the 2016 Holiday Season by donating canned food and non-perishable items to feed the needy and raise awareness for the Oregon Food Bank Network.
Special Thanks to 2016's Great Holiday Food Drive Co-Sponsors
Downtown Oregon City Association
Energy Fitness Concepts
The Firkin Tavern
The Ritz Salon
West Linn Hairport
Willamette 205 Office Buildings
ATTENTION BUSINESSES
Plan Ahead & Co-Sponsor the Great Holiday Food Drive
Coming Fall 2018, 11th Annual Great Holiday Food Drive

It's never too early to start planning for next year, especially the need to fight hunger! We look forward to your support next year for our 2018 Portland-Salem Metro-Wide 11th Annual Great Holiday Food Drive taking place from December 3 through December 21, 2018. Keep an eye out here for the latest news on our 2018, 11th Annual event.
Signup to be a Donation Drop Site Location. Allow your business to be an official Donation Drop Site for the 11th Annual Great Holiday Food Drive. It only requires about 3-4 sq ft of space for a donation collection barrel. We'll take care of the barrel drop-off and pick-up so there's no work on your end other than donating some space. We'll do all the work for you! There's many benefits to getting involved:
Be Proactive and Involved in your Local Community
Raise Awareness for Hunger in Oregon
Receive a Listing and Link to your business website from the Great Holiday Food Drive
Get to Know Local Consumers you might not otherwise reach